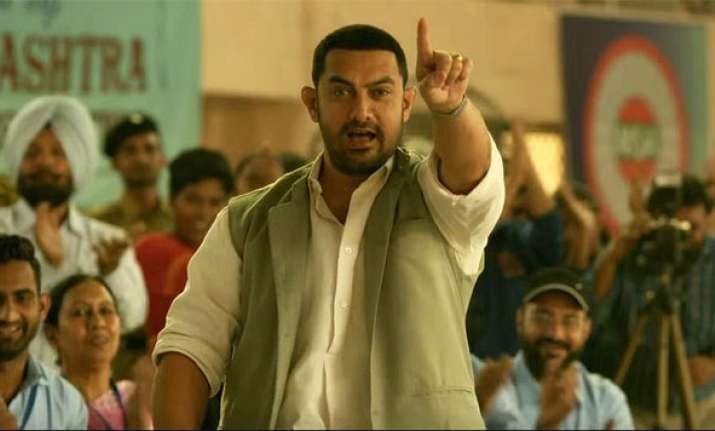 It is the highest grossing Indian movie worldwide. It is a biographical sports drama film, directed by Nitesh Tiwari and produced by Aamir Khan, with UTV Motion Pictures and Walt Disney Pictures India. The film revolves around the Phogat family, telling the story about Mahavir Singh Phogat, a pehlwani amateur wrestler, who gives training to his daughters Geeta Phogat and Babita Kumari to become India's first world-class female wrestlers.
PLOT
Dangal is a real-life biography of a patriotic fighter(wrestler)
Mahavir Singh Phogat who raises his daughters and evolves them into International standard wrestlers. The movie begins with a duel between Mahavir (Aamir Khan) and his colleague who was also former wrestler, thus hogging the limelight on the Dangal Theme, discovering Mahavir's past life of a Wrestler. Mahavir had an admiration to make his dreams come true by his sons but on the contrary, four daughters take birth. They come with a complaint of beating down a boy in their locality. Hence Mahavir hopes they would be future Wrestlers. So he trains his daughters Gita and Babita and proves that they're no less than a professional male wrestler. After a long struggle, Gita enters the National level Wrestling and acquires victory. When she is up to the Internationals, she opts to get trained from the NSA(National Sports Academy) where a coach misguides Gita in her training, due to which she deliberately fails every match she attempts. Her sister Babita also reaches the right age of getting into Wrestling. Now, Mahavir plans to train both of them in his own ways. Finally, Gita defeats an Australian Wrestler by following the predominant path of her father, not of the coach. The movie is par excellent, enridges Women Empowerment in the Nation.
CAST
Aamir Khan as Mahavir Singh Phogat
Sakshi Tanwar as Daya Shobha Kaur, Mahavir's wife
Fatima Sana Shaikh as Geeta Phogat, Mahavir's oldest daughter
Zaira Wasim as Young Geeta Phogat
Sanya Malhotra as Babita Kumari, Mahavir's second daughter
Suhani Bhatnagar as Young Babita Kumari
Aparshakti Khurana as Omkar
Ritwik Sahore as Young Omkar
Girish Kulkarni as Pramod Kadam, coach at the National Sports Academy
Vivan Bhatena as Harkinder, Mahavir's colleague
Kaustubh Pile as Male fighter no.2
Shishir Sharma as Head of Department of the National Sports Academy
Meenu Prajapati as Jasmeet, Geeta's friend at the National Sports Academy
Badrul Islam as Shamim, Owner of a meat shop
Karmveer Choudhary as Mahaveer Singh Phogat's father
BUDGET & EARNING
The film was a record-breaking commercial success, becoming the highest-grossing Indian film ever, the fifth highest grossing non-English film ever, and the highest-grossing sports film worldwide. Produced on a budget of ₹70 crore (US$10 million), the film grossed ₹2,125.3 crore(US$330 million)worldwide, including $216.2 million in China, becoming one of the country's top 20 highest-grossing films and the highest-grossing non-English foreign film in China. The film has also been watched more than 400 million times on Chinese streaming platforms.
CONCLUSION
The movie, released in the year 2016 was a enormous success worldwide. The phenomenon of this Indian movie being made on such extraordinarily low budget and earning so high profits is almost unimaginable. But we are in this advancing world of 21st century and India is the fastest developing country.